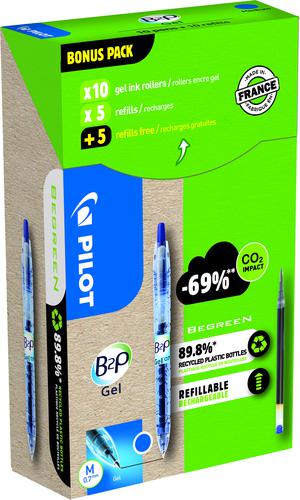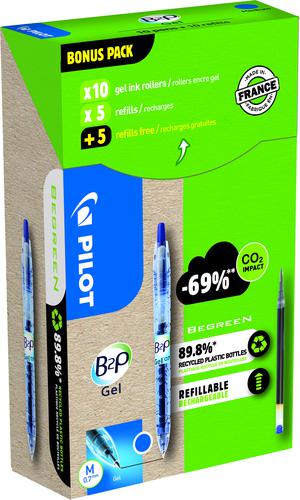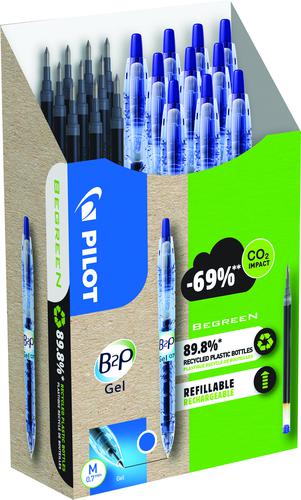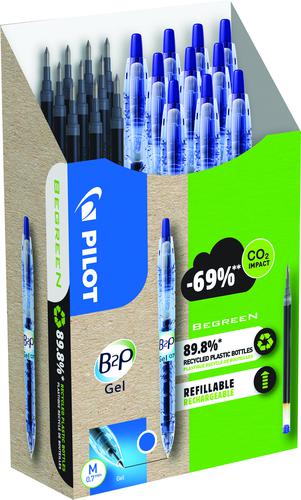 Pilot Greenpack Begreen B2P Retractable Gel Rollerball Pen Recycled 0.7mm Tip 0.39mm Line Blue (Pack 10 Plus 10 Refills)
19 In Stock
Manufacturer Pilot Pen
Description
PILOT GREEN PACKS – THE TRASH CAN WAIT!

Refilling your pen rather than the bin is now much easier with the Pilot Green Packs - Convenient sets of either 10 or 12 pens made from recycled materials with additional refills.
At Pilot, we do not expect you to throw away your pen just because you have used up all of the ink, and we encourage the use of refills. Using a refill when the ink runs out, rather than a new pen will extend the products life and further reduce the amount of plastic which would otherwise prematurely go to landfill.
Using refillable pens and Pilot Green Packs can also help reduce "greenhouse gases" because manufacturing an entire pen produces more CO2 than just the refill components. From the manufacturing through to the end of the product life, it is estimated that using all of the pens and the refills in a Pilot Green Pack gives the following cumulative CO2 savings (compared to using the equivalent number of new pens and not refilling them):
B2P Green Pack -69% CO2
G2 Green Pack -71% CO2
V7 Cartridge System -81% CO2
V-Board Master -75% CO2
Perfect for the home, office or classroom, the following Green Packs are available from Pilot:
B2P Gel - Retractable gel ink pen made from 89%* recycled plastic bottles (10 pens + 10 refills)
G-2 - The iconic retractable gel ink pen – now made from at least 50%* recycled plastic (12 pens + 12 refills)
V7 Cartridge System – Refillable liquid ink rollerball pen, made from 71%* recycled plastic (10 pens + 10 sets of 3 refills)
V-Board Master – Bullet tip liquid ink whiteboard marker, made from 91%* recycled plastic (10 markers + 10 refills)
All Pilot Green Packs are available in either black or blue ink colours.

* Excluding replaceable parts (e.g. refills, ink, lead etc).
Specifications
Ballpoint & Rollerball Pens