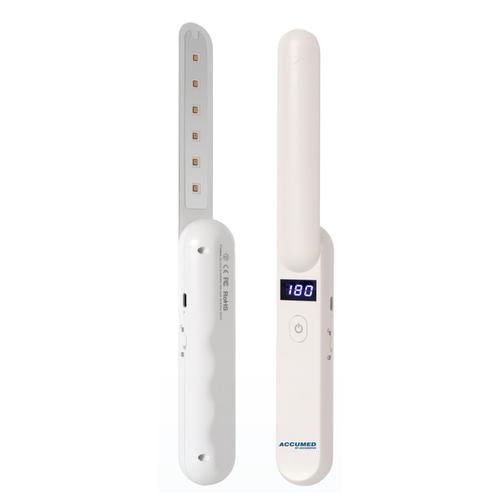 Call for availability
Product Code: 8ACCMEDUVC6SWMINI
Manufacturer Accuratus
Description
UV-C Sanitising Wand - kills up to 99.9% of bacteria and viruses/allergy contaminants. UV light is a particularly good option for sanitation because it kills bacteria regardless of drug resistance and without toxic chemical.

The UV-C light helps to break down germs on surfaces as Ultraviolet (UV) light destroys the molecular bonds that hold together the DNA of viruses and bacteria. The three main types of UV rays are UVA, UVB, and UVC. Because UVC rays have the shortest wavelength, and therefore highest energy, they are capable of killing bacteria and viruses, also called pathogens. Powerful UVC light has been regularly used to decontaminate surgical tools and hospital rooms for many years and is now being used in commercial and home environments.

The inverse square law applies to germicidal ultraviolet as it does to light: the killing power decreases as the distance from the lamps increases. The average bacterium will be killed in ten seconds at a distance of six inches from the lamp.
Specifications
Rechargeable Internal Lithium Ion Battery